BAHART SHIPS FOR LAKE BALATON
Innovative Ship Design for Modern Nautical Engineering
Werkemotion proudly unveils its latest collaboration with Bahart – a fleet of two state-of-the-art catamarans and two advanced ferries, setting a new benchmark for nautical design in Central and Eastern Europe.
This monumental project marks a significant stride in the modernization efforts of Lake Balaton's maritime services.
Revitalizing Lake Balaton Transport: Werkemotion's Pioneering Ship Designs.
Discover Werkemotion's cutting-edge catamaran and ferry designs for Bahart, revolutionizing maritime transport on Lake Balaton with sustainability and premium comfort
The Catamaran, measuring 35 meters in length, 11 meters in width, and 9 meters in height, is designed to comfortably accommodate up to 350 passengers, blending spacious elegance with efficient design.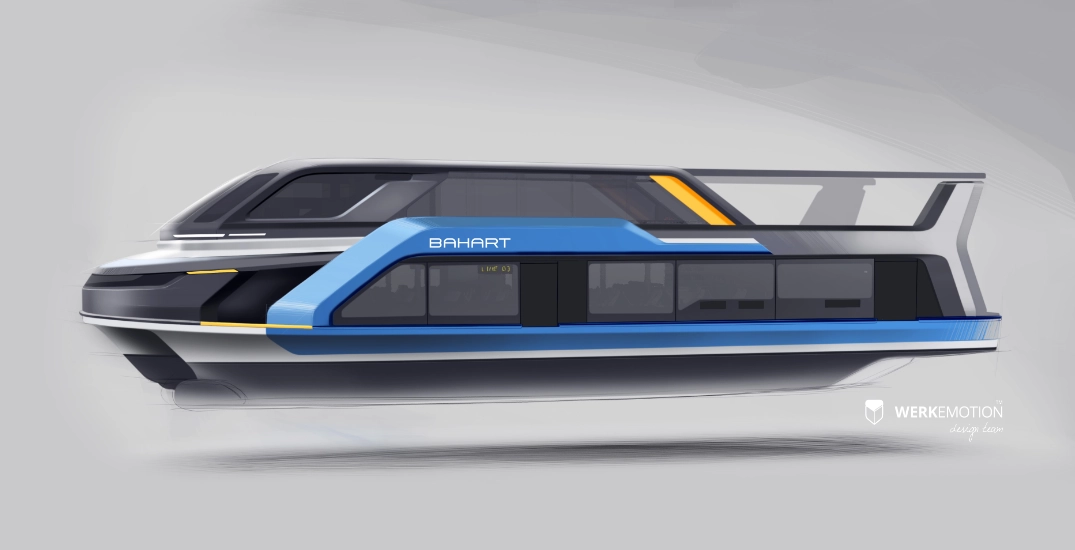 The project has been designed in view of the increased need for modern and sustainable transport on the Balaton. These new catamarans and ferries not only increase comfort and efficiency, but also relieve overloaded land transport by offering an attractive alternative to water transport, reinforcing Bahart's current presence and commitment to environmentally efficient travel solutions.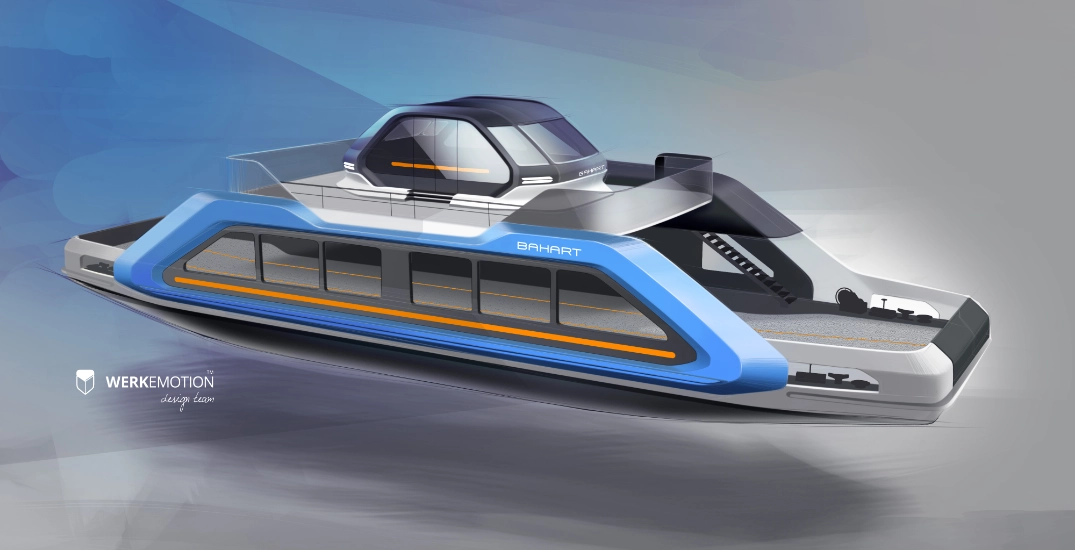 Measuring 45 m in length, 11 m in width, and 11 m in height, is expertly crafted to transport 24 cars, 40 passengers, and 31 bicycles, offering a versatile and efficient solution for modern transport needs.
03. Design Process
Development
Werkemotion design studio was part of the development from the very beginning of the project to the start of the series production.
We were responsible for creating a new design language for the Torsus brand, which was intended to visually and functionally represent off-road ambitions. We then translated this design language into the first mass-produced off-road bus, the Praetorian.
01.
Concept Stage
Our design ethos seamlessly blends contemporary aesthetics with functional excellence. Each vessel bears the distinctive Werkemotion touch, with interiors and exteriors meticulously crafted to enhance brand recognition, streamline efficiency, and ensure passenger comfort. Developing a unified design language for both vessels was essential, not only for Bahart brand consistency but also to ensure the ships were easily recognizable.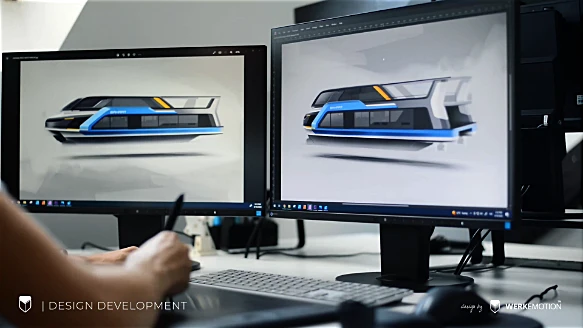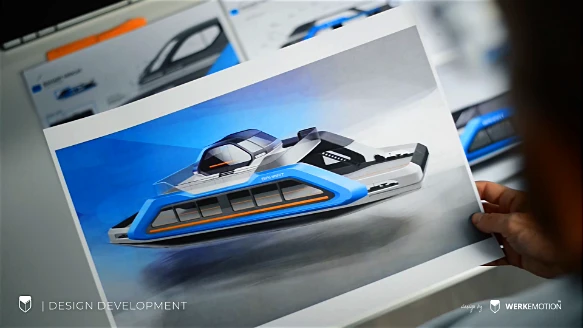 02.
Prototyping Stage
Many partners have been involved to make this project possible. MULTI Engineering's precision in engineering with SAM Shipyards' exemplary construction skills to bring Werkemotion's visionary designs to life. Together, we've crafted not just ships, but symbols of new era on Balaton. Company Posvancz delivering an exceptional level of quality and aesthetic appeal that significantly enhanced the overall design of interiors and passangers comfort.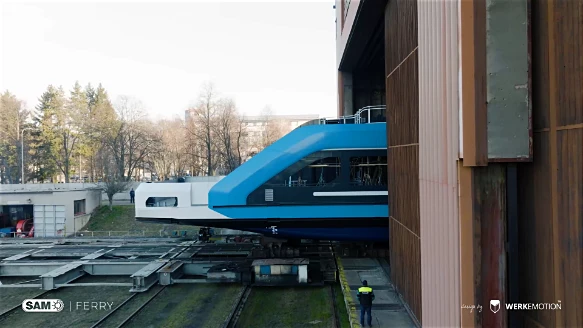 04. Development
Design Process
In the design development phase, our team channeled creativity and advanced styling techniques to conceive the exterior and interior designs, collaborating closely with naval engineers. We prepared data for the production of materials like fiberglass, glass, and steel, ensuring every aspect of the interior fit-out met rigorous certification requirements. Additionally, our designers focused on preparing a striking livery design for the paint job, encapsulating the essence of the brand while adhering to functional and aesthetic excellence.
EXTERIOR DESIGN
Exploded view
The form of this catamaran, defined by sleek lines and a dynamic profile, embodies efficiency and modernity was designed by WERKEMOTION. Manufactured by SAM with the precision of Naval engineers, its build quality ensures reliability and durability. Its design captivates users with a futuristic appeal while reflecting Bahart's identity, enhancing the aquatic journey with a visually engaging and memorable presence on Lake Balaton.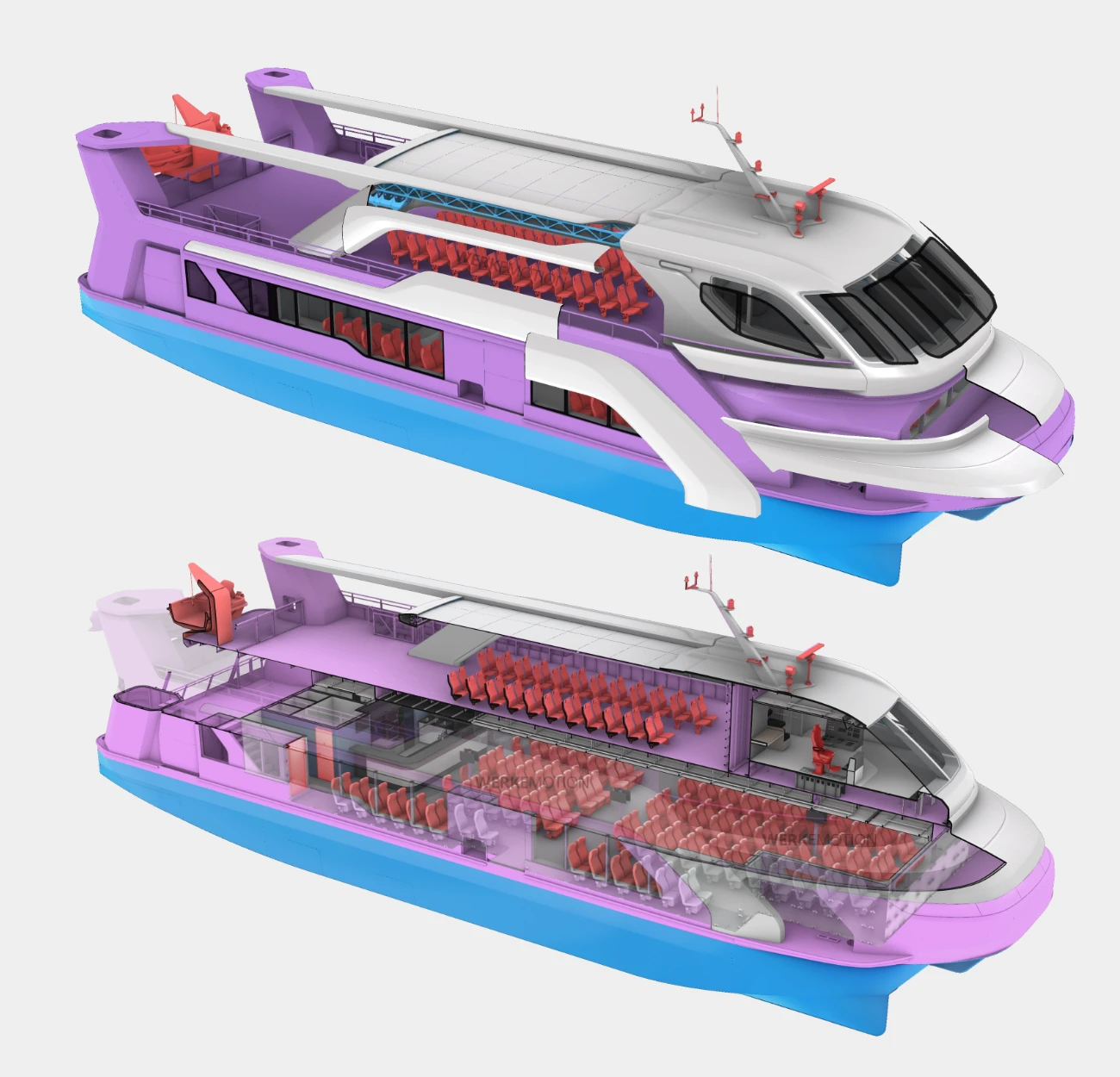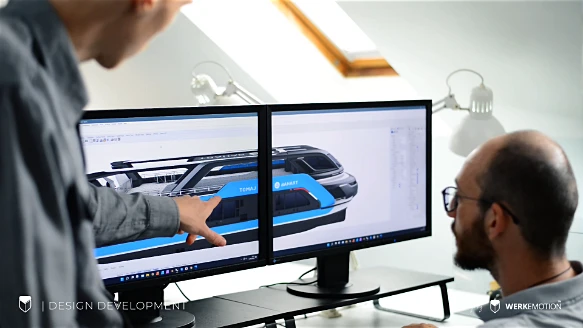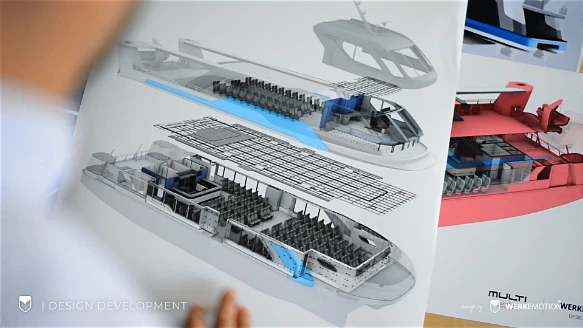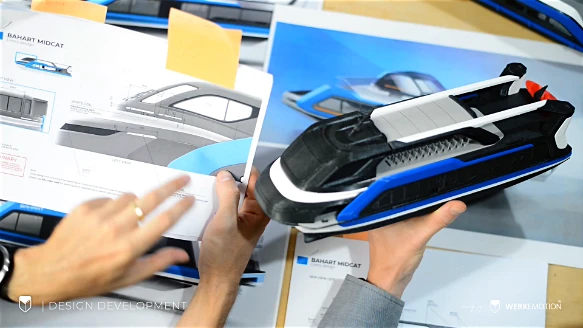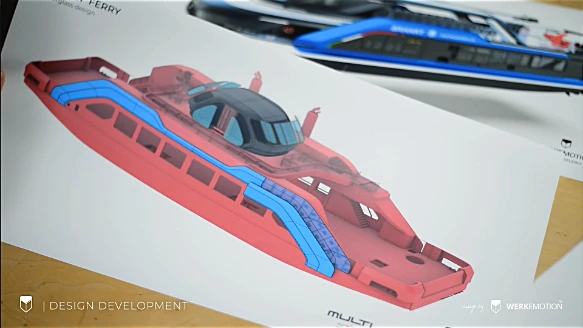 INTERIOR DESIGN
Exploded view
The catamaran's interior, designed by WERKEMOTION, features a main deck with 200 seats for passengers, a bar for refreshments, and a sundeck offering an expansive view of the lake with an additional 80 seats. The captain's luxury wheelhouse is equipped with advanced navigation tools. The design prioritizes comfort, functionality, and a luxurious experience for passengers.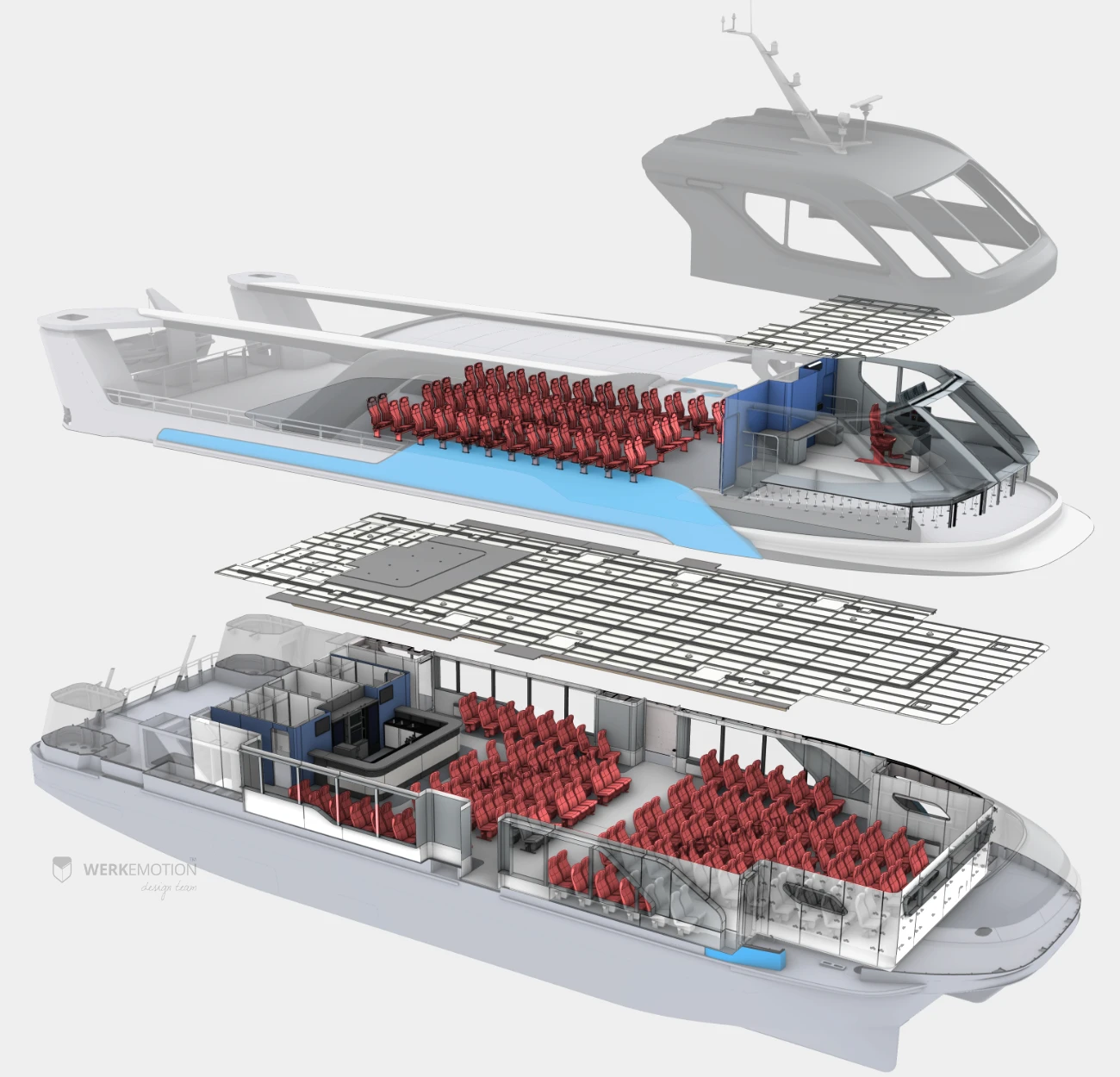 05. DELIVERY
Komárno (Slovakia) to Siófok (Hungary)
The transportation of the ships from the Komárno Shipyard in Slovakia to Lake Balaton, Hungary, traversing the River Danube and Siófok canal, was a remarkable undertaking, reflecting the collaborative efforts of all involved parties. This two-week journey, necessitating the ships to be specially designed for disassembly to navigate beneath low-lying bridges, highlighted the collective expertise in advanced maritime engineering from Werkemotion, MULTI Engineering, and SAM Shipyards.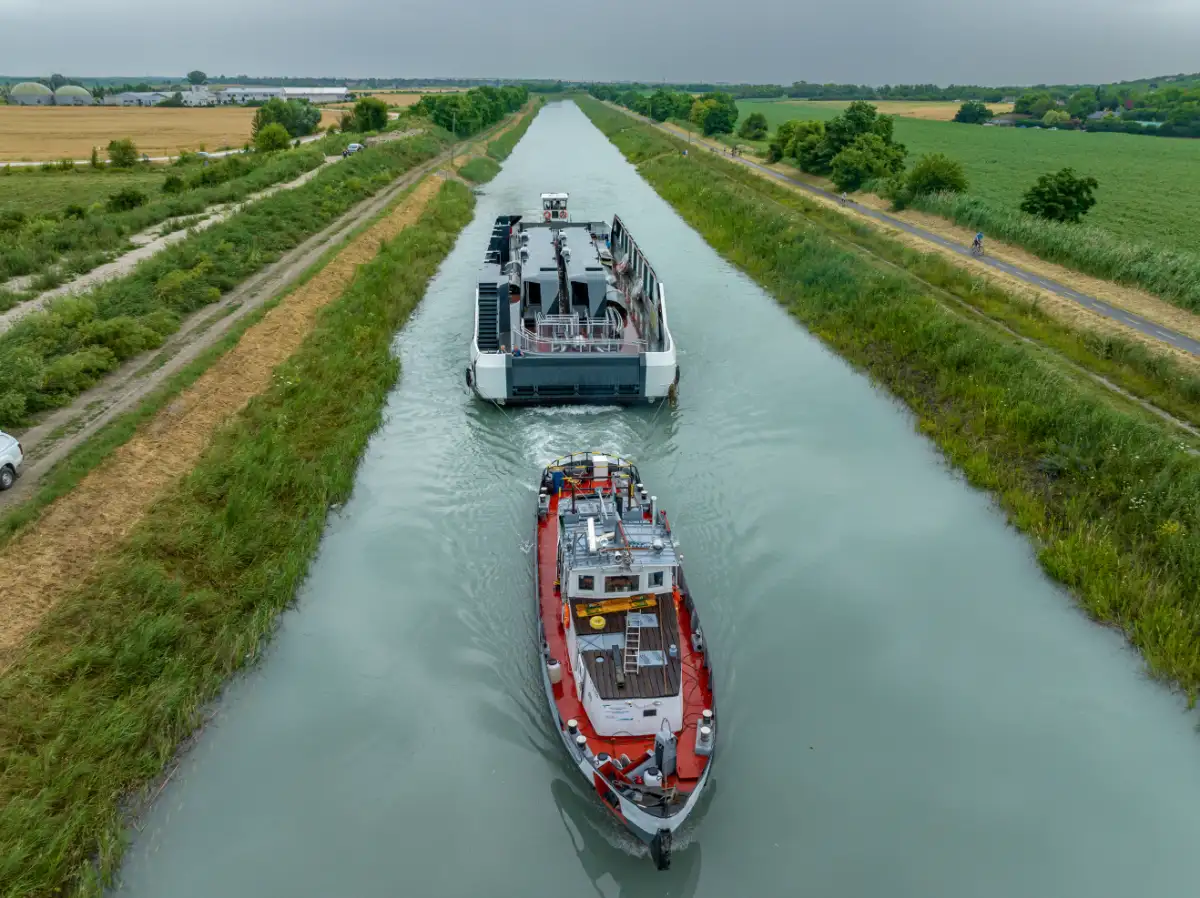 BAHART new ships for Lake Balaton – Delivery – Danube river and Siofok canal (6)
BAHART new ships for Lake Balaton – Delivery – Danube river and Siofok canal (10)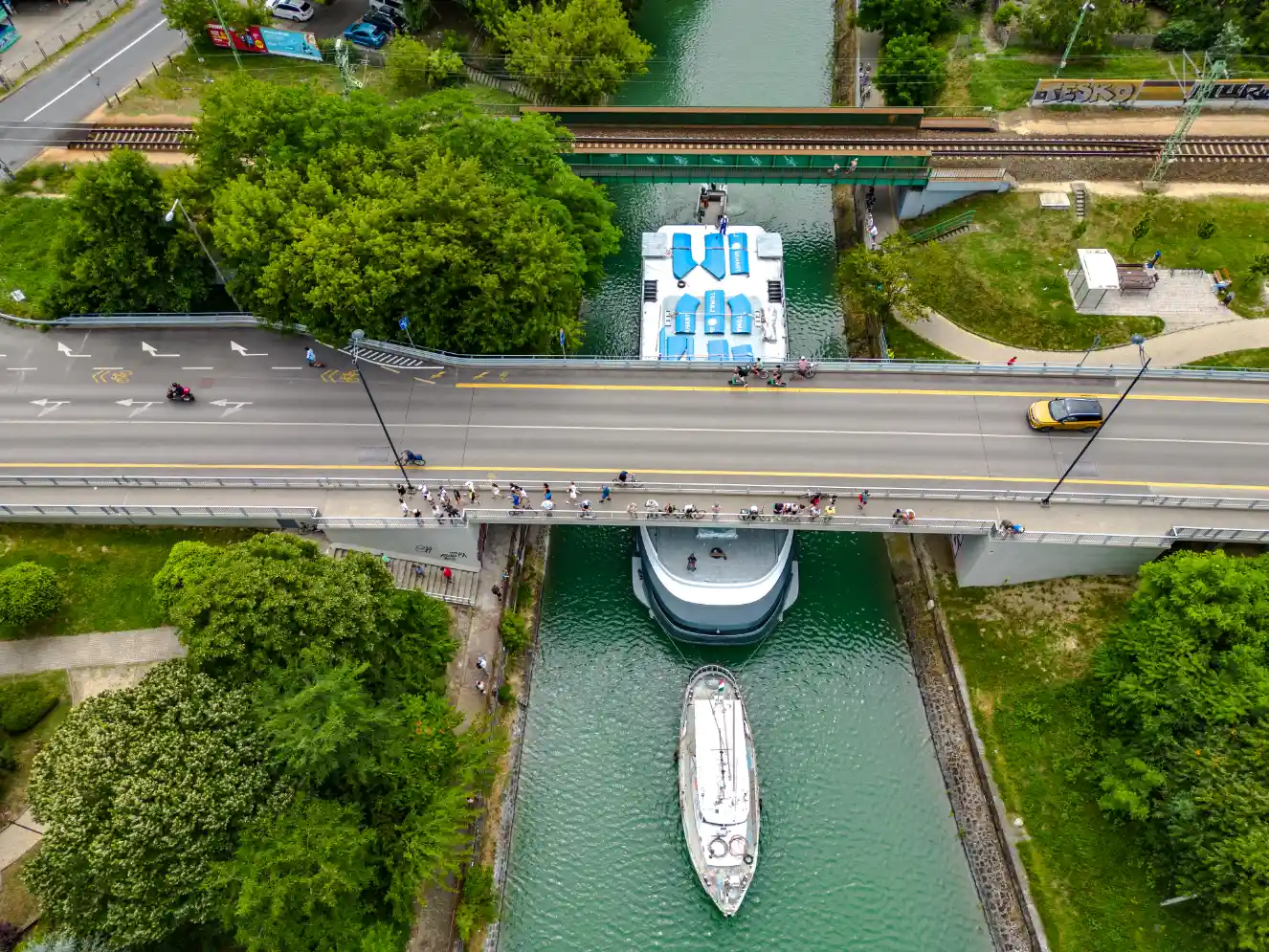 BAHART new ships for Lake Balaton – Delivery – Danube river and Siofok canal (13)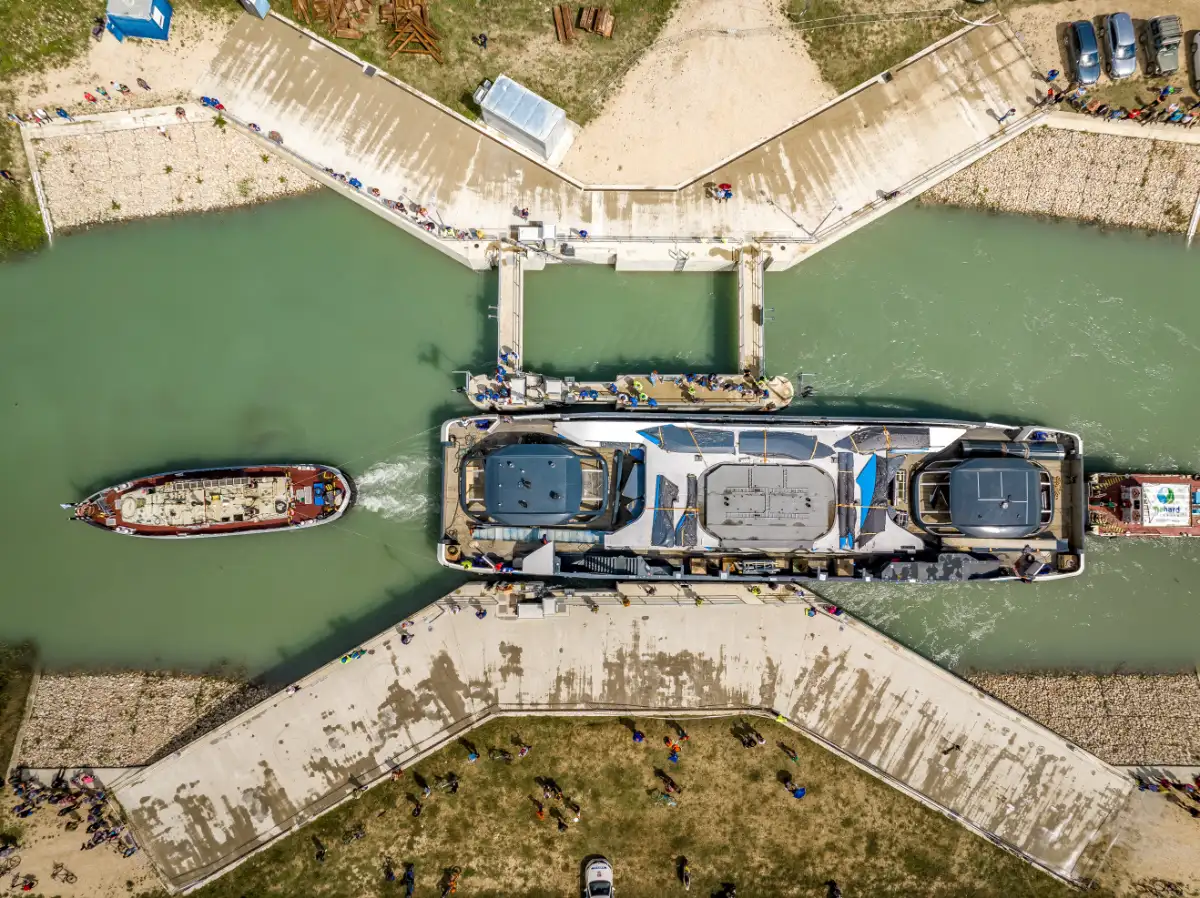 BAHART new ships for Lake Balaton – Delivery – Danube river and Siofok canal (8)
Photo Credit: Balatoni Hajózási Zrt.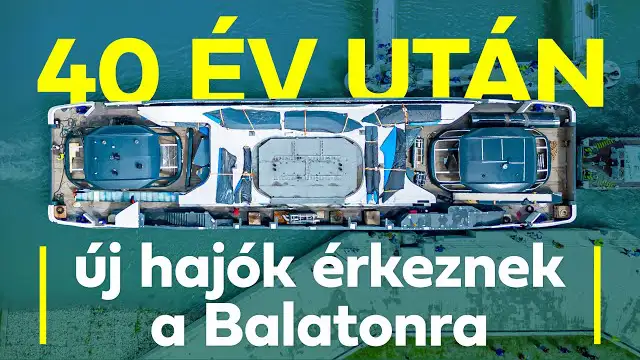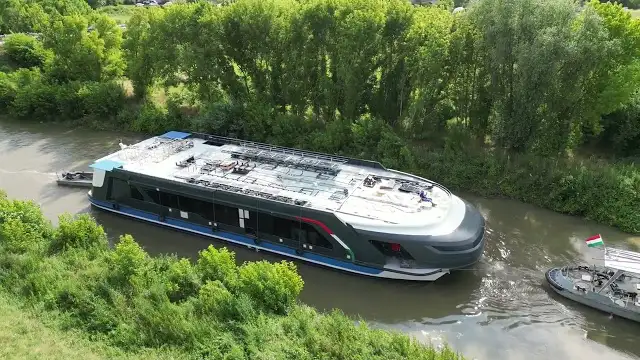 06. Before & After
It's not just about nice thing
The new Bahart Catamarans and Ferries, with increased capacity and improved comfort, promote the use of public waterways and significantly improve the accessibility and attractiveness of public transport on Lake Balaton, reducing dependence on private vehicles and thus reducing traffic congestion and emissions around the lake. The vessels are designed to be more fuel efficient and emit significantly less pollutants than their predecessors.
SAM Shipbuilding and machinery
Engineering enterprise SAM – SHIPBUILDING AND MACHINERY a.s.  is a qualified manufacturer of machinery and other engineering products. We export most of our products to EU countries. The company operates facilities in Komárno, Bratislava and Liptovský Mikuláš. We maintain a quality management system certified by the TÜV certification organization and other authorizations documenting the human resources and technological competencies needed to manufacture technically complex products for various industrial sectors.
Balaton Shipping Company is a traditional company that has been transporting passengers on the waters of Lake Balaton for the 175 years. For several decades, it has been one of the most determining companies in the Balaton Region. Its sphere of activities largely concentrates on the touristic market, and is closely connected to it. The Balaton Region is present in all three of the counties that involves it, (Somogy, Veszprém, and Zala). Its owners are in close contact with the municipalities of the Balaton Region, which disposes of the public passenger boat docks, but due to its activities, they also nurture close contacts with the municipalities of all of the vacationing areas, other touristic organizations, and private organizations, economic companies, as well as those organizations that deal with tourism.
In the past 175 years, our company has become the cornerstone of tourism on Lake Balaton.  Or motto which is "If Lake Balaton, then boating!", also expresses this. Our company is the largest boating organization operating on Lake Balaton, and our main activities are: the operation of personal boats, ferry travel, and sailboat docks.
Let's make something great together
Get in touch with us to see how we can help you with your project